Category Archives:
Uncategorized
Happy Wednesday everyone! :) Yayy it's the middle of the week and it feels like a Tuesday! Sounds like a good deal to me!
Today is exciting because: 1) It's time for another What I Ate Wednesday sponsored by the wonderful Peas and Crayons! 2) It did not rain all day and the sun even shone a bit!
This is especially exciting after yesterday's weather, and my ardent love for the sun.
Since it is What I Ate Wednesday, let's start off with some breakfast eats!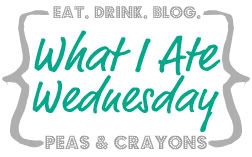 My morning started off with some Chocolately Protein Overnight Oats, reheated with a little extra water for about two minutes. These tasted sooooo good this morning! Totally hit the spot! :)
Now lunch, oh lunch. Of course you could not be as simple and delicious as breakfast. Lunch was not anywhere in the vicinity of as convenient as breakfast. It required a lot more work than opening fridge door, and placing in microwave for two minutes. It was more of about a 40 minute Salad search adventure across town, due to the fact that I forgot lunch, again.
First off, I decided McDonald's would be a good place to stop, because I can always go for an iced coffee, and though I hate fast food, their Southwest Salad is not bad in a pinch. I get to McDonald's and guess what. They weren't serving salads yet. Boo. At least I still got one of these.
Luckily, or so I thought, there's a Burger King down the street, so I looked up their menu and found that they had a grilled chicken salad I could settle for, and I drove down to Burger King and ordered a salad. Well they weren't selling salads yet either. Another fail. To top off this Burger King trip? I was the only one in the restaurant aside from a few old timers drinking their coffee and shouting about politics. The guy that took my order (or lack thereof) was a little on the creepy side. He kept asking me how my day was going and tried to start up a conversation. Here's how it went.
BK : "So, girl, what's your name."
Savannah: "Um, Savannah." [in a very quick and uninterested tone]
BK : "Cool name. I'm [insert name that I've already forgotten]. Our Coke machine broke today."
Savannah: "Well that doesn't sound good."
BK : "Nah, but I don't like Coke anyhow. I think we need to bring in a Pepsi truck to refill this baby. You like Pepsi better than Coke."
Savannah : "No. [Starts walking to the door] Have a good day! [my tone did not imply that I wanted him to have a nice day.]
BK : Awl alrighty. I see. Not everyone likes Pepsi. Good talkin' to you! I'll catch you sometime later!"
First of all, no, you're not going to catch me later. Second of all, what kind of pick up line asks if the girl likes Pepsi better than Coke??? Burger King was the biggest fail of the salad search.
So, after exploring my lunch options, I figured Subway would be a safe bet for a simple salad.
It normally is, on days that they ARE NOT OUT OF LETTUCE! Seriously, Subway? Out of lettuce? I really need to start remembering my lunch. Thankfully, though, I found that the coffee shop did sell a few small refrigerated meals, and I was able to find a decent Grilled Chicken Salad there.

I just snacked on a yogurt, and some apples with my cinnamon. ;) I haven't eaten or even thought about dinner for tonight yet, so I'll share some evening eats from the past few days below!
I have not wanted big dinners much lately, so I have resorted to this meal a few too many times, and have enjoyed it WAY too much.


Eggs cooked in a teacup in the microwave. Easiest/best way to cook eggs ever. Oh, and I like eating them with Paul Newman's Pineapple Salsa all over them. Sorry, even with my amateur photography skills, I'm pretty sure there is NO way to make microwaved eggs in a cup look appetizing.
On the side are some sugar snap peas and cinnamon baked sweet potato fries. Sooo good! Before eating, I was playing around with a new camera app on my phone. What do you guys think of pop art version of dinners? I'm liking it. ;)
Other snacks have included Brown Rice Puffs cereal, fruit, parts of a gluten free brownie from the farmers market, and maybe my body weight in Angela's at Oh She Glows snickerdoodles. :)

Questions for the day:
1) What are your favorite things to eat when forced to eat out, on the run?
2) Have you ever heard any really bad pick up lines, like ones about soda pop preferences, from people in public?