The Thankful Challenge (WIAW)
Hallelujah for beautiful days!
Since yesterday was November 1st, I am going to try and challenge myself on the blog a little bit for the entire month.
Since Thanksgiving is coming up in a few weeks, I would like to post something I am thankful for with every post during the month of November.
I am hoping that this challenge will help me to even further appreciate the little things in life, and encourage others to do the same. There are so many overlooked blessings, and I would love for them to stop being overlooked! I am a true believer that those who focus on the good, positive things, are, by far, the happiest, and most content people. So what am I thankful for today?
Sunshine!
"If you spend your whole life waiting for the storm, you'll never enjoy the sunshine."
Morris West
So will you also take this challenge, and be thankful for one, specific thing every day throughout the month of November? Be thankful, and let the sun shine!
All this sunshine is sure making me happy! These are all welcome signs considering over the weekend, I saw scenes like this! Oh snow!
And now… onto WIAW a la Jenn!
I have been a bad blogger, and do not have photos of half of my day's eats… but we are going with what I have!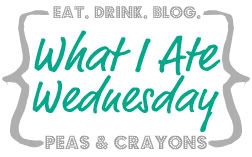 Breakfast!
I have been out of protein powder, and my shipment came in last night. I was so excited, so I obviously had to start my day off with Super Chocolatey Protein Oats! (those portions x2
)
Random Meals / Snacks of the last couple days
Sweet Potatoes, cottage cheese, green beans and almonds, fresh green beans and broccoli, spaghetti squash.. yum
Today's Questions :
What are YOU thankful for today?

Will you participate in trying to be thankful every day this month? Would you post these things?

What is the best thing you have eaten today/this week?