WIAW + Spiced Vanilla Chai Oat Recipe
I cannot believe it is already Wednesday again! Time for round 2 of my What I Ate Wednesday post with a truly amazing oatmeal recipe!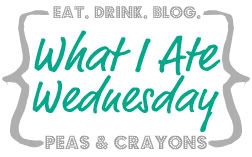 For the past three nights, I have been a total dinner hater! I have not sat down and had a real meal for dinner. Instead, I've been snacking on a lot of random things. Last night was no different.
This has included throwing this amazing salsa on whatever I can find…
Chocolate Strawberry Smoothies…
Lots of Baby Carrots, apples, and various other veggies and fruit.
These great Lentil Crackers…
Topped with some of this…
And Peanut Flour Sauce. [peanut flour + stevia + water]
I had to go into school early today to finish a test, so luckily I had some awesome Overnight Oats waiting to be devoured by me! J This may be my new favorite oat recipe! If you keep reading this post you will find the recipe! This morning, I literally ate this HUGE bowl of oats in under 10 minutes because I was time crunched. It was a little disgusting.
I am really starting to hate school for not allowing me to sit down and eat a real lunch.
 Lunch today consisted of a salad, a nectarine, a string cheese, and Luna Protein Bar. Oh, and the best part – a little treat of an Iced Coffee from McDonalds with Sugar Free Vanilla syrup! J
Maybe I will get in the mood for a real dinner tonight, but for right now, I'm eating another smoothie! What can I say? No air conditioning at my school leaves me craving these things!
Here is the recipe for my oats I've been bragging about. This is seriously sooo yummy!
Spiced Vanilla Chai Oats
Ingredients:
½ – ¾ cup of original oats
1 tsp of Chia Seeds
1 ½ cup of hot water
1 vanilla chia tea bag [I use Bigelow]
½ tsp vanilla extract [can be reduced to ¼ tsp]
1-2 tsp stevia or sugar
1 TBSP cinnamon
Directions:
Steep your bag of tea in the hot water for 5-10 minutes. You want a strong Chai flavor.
Pour tea over oats in a bowl with vanilla extract and cook either on the stove or microwave. I microwaved mine for a total of 2 minutes or so. You have to really watch your oats to be sure they do not spill over in the microwave.
Stir in cinnamon and stevia.
Let oats sit in the refrigerator for a few hours or overnight.
Sprinkle extra cinnamon and/or stevia if desired.
Eat hot or cold! I have eaten these both ways. If hot, add a little more water, stir, and microwave for 45 seconds to a minute.
I have a feeling this oatmeal will be making many reappearances! You can also play around with the oat to chia seed ratio. I just kind of threw in whatever I was feeling. Less oats + More chia seeds might be good. More of both may be better. All I know is I love this combination of ingredeints, especially for fall!
Also.. I really enjoyed this article! You should check it out!